---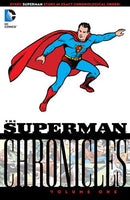 Written by Jerry Siegel
Art and cover by Joe Shuster
    Presenting an exciting new way to experience the rich history of the Man of Steel in an affordable trade paperback collection of every Superman adventure, in color, in chronological order!
    SUPERMAN CHRONICLES VOL. 1 reprints the earliest stories of the world's first super-hero, originally published in ACTION COMICS #1-13, NEW YORK WORLD'S FAIR #1 and SUPERMAN #1 (1938-1939)! These historic tales feature the first adventures of the Man of Steel by Superman creators Jerry Siegel and Joe Shuster. Future volumes in this series will reprint stories from ACTION, SUPERMAN, WORLD'S FINEST and other titles throughout the character's history, all presented chronologically based on publication date!