---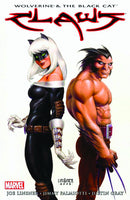 Written by JIMMY PALMIOTTI & JUSTIN GRAY
Penciled by JOSEPH MICHAEL LINSNER
Cover by JOSEPH MICHAEL LINSNER
Survival of the fittest! Shanghaied and transported to a remote desert island, Wolverine and the Black Cat find themselves at the center of a deadly game. A team of filthy-rich hunters have slapped down some serious cash for the opportunity to hunt the most dangerous prey on the planet, and they've got the high-tech weapons to do just that. Like it or not, the key to Logan and Felicia's survival just might be their ability to cooperate long enough to evade their hunters and uncover the identity of the deadly ringmaster. Collecting CLAWS #1-3.