---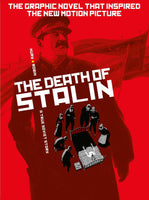 The graphic novel that inspired the new Armando Iannucci movie which includes an all-star cast - Steve Buscemi, Simon Russell Beale, Jason Isaacs, Michael Palin, and Jeffrey Tambor.
Fear, corruption and treachery abound in this political satire set in the aftermath of Stalin's death in the Soviet Union in 1953.
When the leader of the Soviet Union, Joseph Stalin, has a stroke - the political gears begin to turn, plunging the super-state into darkness, uncertainty and near civil war. The struggle for supreme power will determine the fate of the nation and of the world. And it all really happened.