---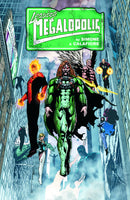 When the caped heroes of the world's safest city inexplicably turn into homicidal maniacs, no one is safe. The only rational thing to do is to get the hell out of town. If only it were that easy. A small group of terrified survivors make a desperate run for the city limits, chased by unspeakable evil!
o The Kickstarter phenomenon is finally available through Dark Horse Comics!
o The team behind the critically acclaimed comic Secret Six, Jim Calafiore and Gail Simone, reteam in this relentless book.