---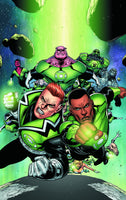 The first collection of the new GREEN LANTERN CORPS series!

GUY GARDNER and JOHN STEWART lead a squadron of GREEN LANTERNS to fight a mysterious force that is marching across the space sectors and devouring not only their natural resources but their entire populations!

On a mission to rescue JOHN STEWART and VANDOR, GUY GARDNER assembles the nastiest Green Lanterns to ever put on a ring!

Collecting GREEN LANTERN CORPS #1-7.