---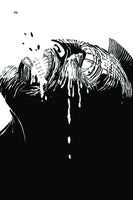 The first volume of the crime-comic megahit that introduced the now-infamous Marv and spawned a blockbuster film returns in a newly redesigned edition, with a brand-new cover by Frank Miller-some of his first comics art in years!
It's a lousy room in a lousy part of a lousy town. But Marv doesn't care. There's an angel in the room. She says her name is Goldie. A few hours later, Goldie's dead without a mark on her perfect body, and the cops are coming before anyone but Marv could know she's been killed. Somebody paid good money for this frame . . .
With a new look generating more excitement than ever before, this third edition is the perfect way to attract a whole new generation of readers to Frank Miller's masterpiece!

o Over a million Sin City books in print!

o New cover by Frank Miller!

o With Miller and codirector Robert Rodriguez gearing up for Sin City 2, this third edition is being released at just the right time!

o The Hard Goodbye was the lead story in the Sin City film, starring Mickey Rourke as Marv!