---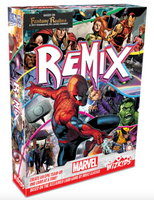 Marvel: Remix is based on the critically–acclaimed game Fantasy Realms, also by Bruce Glassco, which was nominated for the 2021 Kennerspiel des Jahres!
Players are dealt a hand of seven cards representing characters, items, or places from throughout the Marvel Universe. Each turn, you'll draw from the Hero deck, the Villain deck, or the cards discarded by your opponents, before discarding a card yourself. Cards have a base value and a bonus that changes based on the other cards in your hand. Whoever has the hand worth the most points at the end of the game is the winner!
Collect iconic heroes, villains, and more!
Discover epic combinations!
Create the most powerful hand of cards!
Get ready for an epic Super Hero Battle!
Contents:
61 Remix Cards
18 Villain Cards
1 Score Pad
1 Rulebook
2-6 players