---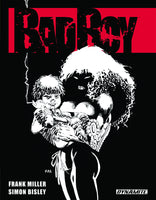 Frank Miller (W) Simon Bisley (A)
Cover: Frank Miller
Bad Boy features Jason, a little boy who comes to realize his parents
aren't his parents, and that he's part of a sterile experimental community.
Originally produced as a strip for the British Edition of GQ, Bad Boy is
now a powerful piece of graphic fiction as only Miller and Bisley can produce!
Featuring a cover by Miller, created exclusively for this Dynamite
Hardcover Edition, this new second printing presents the lost classic as
the creators originally envisioned! Recommended for Mature Readers.