---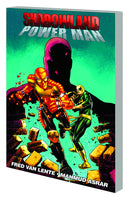 Sale
Written by FRED VAN LENTE
Penciled by MAHMUD ASRAR & RAY-ANTHONY HEIGHT
Cover by MIKE PERKINS
Hey, Iron Fist - meet the new Power Man! From the rubble of a destroyed tenement in Hell's Kitchen, a new hero rises to protect the citizens of New York - for a price! Opposing Daredevil's reign, the brash young vigilante makes himself a target for the vengeful blade of the Hand. What connection does he share with Danny Rand, and how will Iron Fist and Luke Cage - the original Power Man - protect him from the most despicable villains of their past? It's a Power Man and Iron Fist story like you've never seen before as the battle for the soul of New York City brings new heroes and villains to the forefront of the Marvel Universe! Collecting SHADOWLAND: POWER MAN #1-4 and material from X-MEN: CURSE OF THE MUTANTS SPOTLIGHT.