---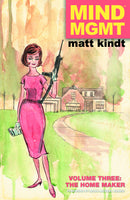 With Meru and Lyme's partnership destroyed, the players go their separate ways in a
series of interconnected one-shots revealing each character's hidden past! As the former
team continue their investigations separately, the Eraser sets her sights on a valuable new
recruit-Meru! Collects The Home Maker from MIND MGMT #13-#17 and The Zoo
Keeper from #18. Foreword by Brian Michael Bendis (All-New X-Men, Guardians of the Galaxy).