---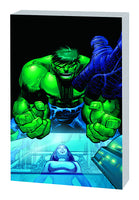 Written by PAUL JENKINS, SEAN MCKEEVER, FABIAN NICIEZA, CHRISTOPHER PRIEST & ERIK LARSEN
Penciled by KYLE HOTZ, JOHN ROMITA JR., JOE BENNETT, JON BOGDANOVE & JORGE LUCAS
Cover by JOHN ROMITA JR.
The Hulk's tortured soul is pushed to its limits when one of his oldest and deadliest foes kills the person dearest to him. After seeking revenge in the only way he knows how, the Hulk attempts to find peace. But just when it seems he's found it, an old pal named Joe Fixit makes him realize all is not as it seems. But wait - isn't Joe Fixit the same person as the Hulk? Featuring the Abomination, Jarella, Doc Samson, Rick Jones, the Fantastic Four, Captain America and more! Collecting INCREDIBLE HULK (2000) #21-33 and ANNUAL 2001.