---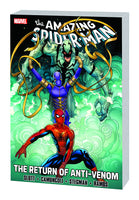 Written by DAN SLOTT & CHRISTOS GAGE
Penciled by GIUSEPPE CAMUNCOLI, RYAN STEGMAN & HUMBERTO RAMOS
Cover by FRANK CHO
Eddie Brock is back - and trying to be a hero. Now he just needs to prove it to Spider-Man. Thing is, he cuts a mean swath as Anti-Venom - that huge, hulking, monstrous persona with the sharp teeth and slathering tongue that scares the dickens out of criminals and civilians alike. So this new hero gig is going to be a tough sell. But as soon as Anti-Venom can convince Spidey they're after the same bad guy - the split-personality crime lord Mr. Negative - they'll have to figure out whether the second coming of the Wraith is a partner in their war on crime, or something more sinister. Collecting AMAZING SPIDER-MAN (1963) #663-665 and FREE COMIC BOOK DAY 2011: SPIDER-MAN.