---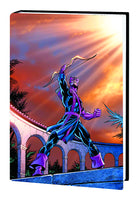 Written by ROGER STERN & BOB HARRAS
Penciled by BOB HALL, LUKE MCDONNELL, AL MILGROM, CARMINE INFANTINO & DON HUDSON
Cover by BOB HALL
Earth's Mightiest Heroes head west! The bigger they are, the harder they hit - and the threats come big, bigger and biggest in this collection of the West Coast Avengers' early victories against Graviton, Goliath and Maelstrom! Featuring multiple Avengers from multiple rosters! And who was the West Coast Avengers' real first recruit? Find out here! Collecting WEST COAST AVENGERS (1984) #1-4, IRON MAN ANNUAL #7, AVENGERS (1963) #250 - plus material from AVENGERS (1963) #239, #243-244 and #246; and AVENGERS WEST COAST #100.