---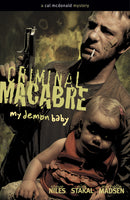 To say that Cal's been through hell and back would be a misstatement. He's been to hell, all right, and he seems to be stuck there for good. When we last checked in on Cal, he and Mo'Lock had just witnessed the vile, horrifying transformation of Cal's lovely ex, Sabrina Lynch, into a minion of the vampire Nosferatu. After that Cal disappeared for a bit, and at the start of our new series, Mo'Lock finds him just in time to lure him off the filthy couch in an abandoned house with an offer he can't refuse-either he gets up and takes a new case, or Mo'Lock will kill him before the drugs can. And what a case it is. Devil worshippers in sunny SoCal are doing their best to bring Satan into the world, and by the looks of things, Cal's already too late. What does one feed a bouncing baby Beelzebub, anyway?


From the creator of this fall's biggest box office horror buzz, 30 Days of Night!


Collecting the four-issue miniseries.