---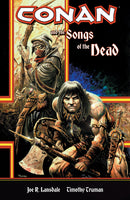 Renowned horror and western writer Joe R. Lansdale reunites with his Jonah Hex collaborator, visionary artist Timothy Truman, to tell the grittiest, roughest, downright meanest Conan story ever seen in comics.
The Cimmerian travels to the aid of an old ally in the wretched wastes of Stygia-a desert harboring wealth undreamed of, even for the barbarian. Soon his pursuit of the ancient treasure reveals a conniving spirit and undead guards. Dust from the desolate land meets blood, and a dark-hearted sorcerer brings forth strange abominations from this unholy mix. Only the cool head and cold steel of the Cimmerian can save all creation from the horror that awaits, and the blood-spattered conclusion will send shivers down the spines of even the most hardcore Conan fans!

•  Teaming the wild, scathing wit of Joe R. Lansdale with the unflinching vision of Truman, Conan and the Songs of the Dead is an unprecedented take on the archetype of sword-and-sorcery.

•  Collects the five issue miniseries.