---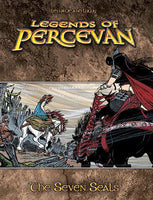 Coming this spring is the fourth volume of the adventures of gallant Percevan and jolly Kervin: The
Seven Seals!
Although no longer in service to his king, Percevan remains committed to the ideals of knighthood.
He will travel to the desert sands to defend the innocent and risk everything to protect the world...and everything is, indeed, on the line as an old enemy threatens to bring about the Apocalypse! Even with the assistance of powerful magical allies, does Percevan stand a chance against the Four Horsemen? The redhaired knight won't be coming through this adventure unscathed, but such is the legend of Percevan...
This volume of the Legends of Percevan collects three stories: The Master of Stars, The Seals of the Apocalypse, and The Seventh Seal.